MAXIMIZES THE TRANSFER OF STRING-TO-BODY VIBRATIONS
GIVES YOUR BASS EXEPTIONAL BRIGHTNESS & CLARITY
FULLY ADJUSTABLE WITH SECURE CLAMP & LOCK SYSTEM
MADE FROM NON-CORROSIVE AIRCRAFT ALUMINUM
CONTINUALLY MAINTAINS TONAL INTEGRITY
FITS BOTH STRING-THROUGH & TOP LOAD DESIGNS
The KSM Foundation™ Bass Bridge was designed to achieve the benefits of a single solid piece, but also to be fully adjustable for each individual player. The bridge utilizes a patented ramp system that allows for precise adjustments and maximizes the transfer of string-to-body vibrations. This improved string-to-body contact gives the instrument exceptional brightness and clarity.
The KSM Foundation™ Bass Bridge is designed to be installed on many new or used bass guitar brands, such as: Fender, Ibanez, Spector, BC Rich, Jackson and Tune Guitar Technology. The bridge is also favored by builders and luthiers that require the best style and tone for their instruments. Please call or email if you have any questions regarding any of our products.
How about a vintage Gibson Ripper with the KSM bridge!
30-DAY MONEY-BACK GUARANTEE
If you're not completely satisfied with your Foundation Bass Bridge you can return it. No questions, no hassle, no problems.
The KSM Foundation™ Bass Bridge is guaranteed to be free from manufacturing defects in materials and craftsmanship.
IMPROVE YOUR SUSTAIN & TONE.
FOR ALL YOU NERDS,
HERE'S THE SPECS.
Most Bass Bridges VS. KSM Foundation Bass Bridge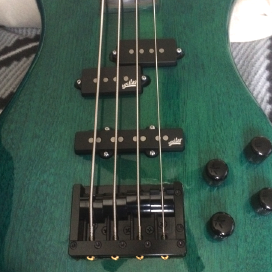 UNIQUE DESIGN FEATURES OF THE KSM FOUNDATION BASS BRIDGE.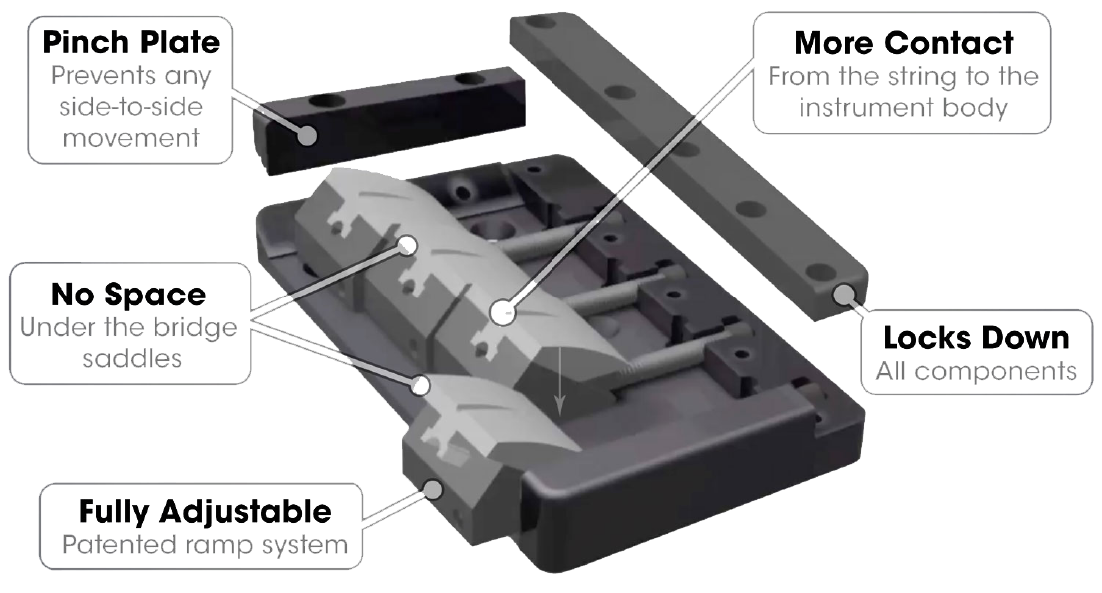 INSTALL ON
VIRTUALLY ANY BASS

SEE THE ATTACHMENT SCREW PATTERNS

SEE HOW TO INSTALL
THE BRIDGE

WE EVEN HAVE INSTALLATION TEMPLATES FOR YA.
GET A ROCK SOLID BASS BRIDGE.
I thought the difference would be subtle compared to a stock "classic" bridge. I was wrong! Instantly noticeable, notes have more clarity and far bettersustain. This combined with locking in my intonation and action. I'm sold.
- Scot Alexander, Dishwalla